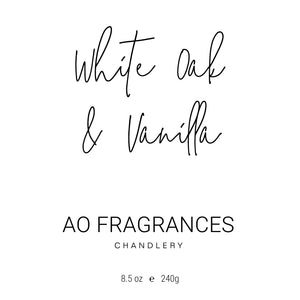 White Oak & Vanilla
Sale price Price $22.00 Regular price $0.00
Experience a sanctuary of grounding warmth with our White Oak and Vanilla candle, a fragrance meticulously crafted to evoke a sense of luxurious comfort. Picture yourself in an elegant study, where vintage leather-bound books line the shelves and the air is imbued with the comforting aroma of oak and vanilla. That's the setting this candle conjures from the moment you light it.

The scent experience begins with a refreshing overture of palm and aloe, a nod to nature's revitalizing touch. But as the flame flickers, the narrative takes a deeper, more luxurious turn. The heart of oak emerges, gently brushed by leather and patchouli, filling your space with an aroma that's as complex as it is comforting. It's like sinking into a leather armchair, each flicker a caress of aromatic warmth.

And for the grand finale, a base of smoke, vanilla, and rich whiskey rounds out this intricate scent, leaving a lasting impression of opulence and sophistication. Each flicker serves as a testament to our commitment to quality, infused with a blend of natural essential oils including cassia leaf and clove leaf.

So go ahead, light up this White Oak and Vanilla candle and let its warm, complex aroma envelop your space, turning each moment into an indulgent experience. Welcome to a world where each flicker tells a tale, meticulously crafted for your sensory pleasure. Whether you're seeking solace or sophistication, this scent sets the perfect tone, inviting you to a world of olfactory storytelling.
Note Profile:
Top: Palm, Aloe
Middle: Oak, Leather, Patchouli
Base: Smoke, Vanilla, Whiskey
55 hour burn time
8.5 oz by weight (12 fl oz Jar)
Phthalate free
100% Pure Soy Wax
Hand Poured in Northeast Florida