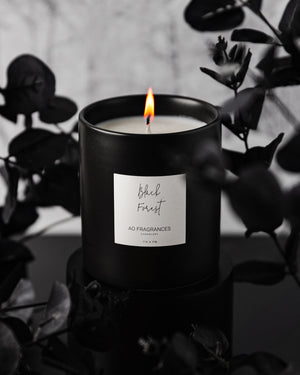 Black Forest - Ceramic
Sale price Price $32.00 Regular price
Step into a world where tradition meets rebellion, where the vibrant energy of punk intertwines with a timeless respect for heritage. Our Black Forest candle, a standout piece in our ceramic collection, embodies this duality.
Visualize a scent as sharply dressed as the streets of Britain today - a seamless blend of modern audacity and classic elegance. The candle's design, sophisticated yet daring, reflects its unique fragrance personality. The cool spiciness of black pepper and cardamom meets the smoky whispers of birch, creating an aromatic dance of contrasts. This juxtaposition is further elevated by a captivating accord of magnetic ink, adding an intriguing layer of complexity.
Each flicker of the Black Forest candle releases an aroma that's as much an experience as it is a scent. It invites you to a sensory journey, one where the unexpected becomes familiar, and the traditional is reinvented. It's more than just a candle; it's a statement piece, perfect for those who appreciate the beauty in contrasts and the harmony in differences.
Welcome to a scent that's not just smelt, but felt. A scent that dresses your space in the elegance of tradition and the boldness of the new. Welcome to the Black Forest experience.
Note Profile:
Top: Citrus, Grapefruit, Floral
Middle: Spice, Woody, English Lavender
Base: Amber, Musk, Birch
70 hour burn time
11 oz by weight (13 fl oz Jar)
Phthalate free
100% Pure Soy Wax
Hand Poured in Saint Augustine Florida