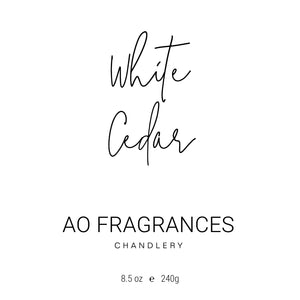 White Cedar
Sale price Price $22.00 Regular price
Introducing White Cedar, a scent that captures the nuanced elegance of cedarwood while transcending traditional boundaries. Imagine stepping into a minimalist loft, where clean lines meet rustic warmth, and the air carries a fragrance as complex as it is inviting. That's the atmosphere our White Cedar candle evokes from the moment you light it.
As the wick flickers to life, a whisper of bergamot graces your senses, a citrusy prelude that beckons you to delve into the heart of this olfactory narrative. As the flame dances, the scent unfolds into a blend of oakmoss and cooling camphor, each flicker a fresh breath of woodland air.
But the soul of this scent story lies in its base notes—cedar and patchouli wrapped in the sumptuous arms of amber and benzoin. This sophisticated blend serves as the aromatic foundation, grounding the scent in a rich tapestry of earthy, aromatic notes. Each flicker is a testament to our unwavering commitment to quality, attention to detail, and infusion of natural essential oils.
So go ahead, light up this White Cedar candle and allow its complex, earthy aroma to fill your space, elevating each moment with a touch of luxurious simplicity. Welcome to a world where each flicker tells a story, meticulously crafted to offer an unforgettable sensory journey. Whether you're enjoying a quiet evening or entertaining guests, White Cedar transforms any setting into a haven of refined comfort.
Note Profile:
Top: Bergamot
Middle: Oakmoss, Camphor
Base: Amber, Benzoin, Patchouli, Cedar
55 hour burn time
8.5 oz by weight (12 fl oz Jar)
Phthalate free
100% Pure Soy Wax
Hand Poured in Northeast Florida