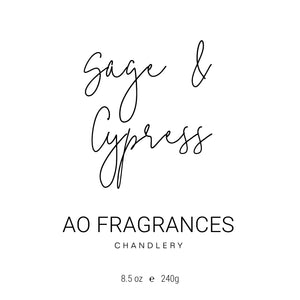 Sage & Cypress
Sale price Price $22.00 Regular price
Step into a sanctuary of herbal bliss and smoky undertones with our Sage and Cypress candle, a fragrance that's both grounding and invigorating. Picture yourself in a secluded forest retreat, where the air is tinged with the aromatic whispers of sage and the refreshing scent of cypress trees. That's the tranquil setting this candle evokes from the moment you light it.
The scent journey unfolds with top notes of spruce and bergamot, each flicker of the flame akin to a refreshing breath of forest air. But hold on, the tale gets even richer. As the flame dances, heady mid-notes of sage and cypress come to life, filling your space with an aroma that's as herbal as it is grounding. It's like a leisurely walk through an alpine forest, each step bringing you closer to nature's heart.
And for the grand finale, a sophisticated base of palo santo and patchouli dusted with musk and smoke adds a layer of depth and complexity. This final act in our scent story brings a smoky, mystical quality, turning your space into a sanctuary of well-being and introspective calm.
Infused with a range of natural essential oils—including orange peel, lemon oil, juniper, and nutmeg—this candle is more than just a fragrance. It's an olfactory experience crafted with meticulous attention to detail and an unwavering commitment to quality.
So go ahead, light up this Sage and Cypress candle and let its complex, herbal aroma transform your space into a haven of relaxation or an autumnal retreat. Welcome to the world of olfactory storytelling, where each flicker is a stepping stone on a sensory journey, meticulously crafted for your delight.
Note Profile:

Top: Bergamot, Spruce
Middle: Cypress, Sage
Base: Palo Santo, Patchouli, Dark Musk, Smoke
55 hour burn time
8.5 oz by weight (12 fl oz Jar)
Phthalate free
100% Pure Soy Wax
Hand Poured in Northeast Florida