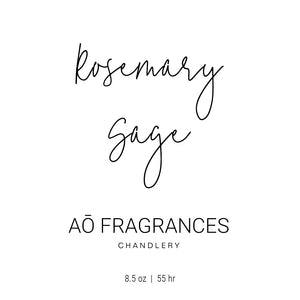 Rosemary Sage
Sale price Price $22.00 Regular price $0.00
Step into a lush herb garden with our Rosemary Sage candle, a fragrance meticulously crafted to capture the essence of botanical beauty. Imagine a secret sanctuary where cooling eucalyptus leaves kiss the air and rosemary bushes sway in the breeze. That's the revitalizing atmosphere this candle creates from the moment you light it.

As the wick flickers to life, notes of cooling eucalyptus and pine immediately greet your senses, each flicker an invitation to engage in this olfactory exploration. The scent story unfolds further as fresh green florals blend effortlessly with the aromatic rosemary, creating an herbal tapestry that captivates and uplifts.

But the soul of this fragrance lies in its woodsy base of sage and cedar. It's like the deep, resonant tones of a well-struck chord, grounding the fragrance in an earthy, enduring beauty. Infused with natural essential oils like fir needle and cedar leaf, each flicker serves as a testament to our unwavering commitment to quality and meticulous attention to detail.

So go ahead, light up this Rosemary Sage candle and let its herbal mélange fill your space. Whether you're diving into a good book or enjoying a moment of mindfulness, this scent sets the perfect tone, inviting you into a world of aromatic tranquility. Welcome to a world where each flicker tells a story, meticulously crafted for your olfactory pleasure.
Note Profile:
Top: Pine, Eucalyptus
Middle: Rosemary, Green Floral
Base: Sage, Cedar
55 hour burn time
8.5 oz by weight (12 fl oz Jar)
Phthalate free
100% Pure Soy Wax
Hand Poured in Saint Augustine Florida