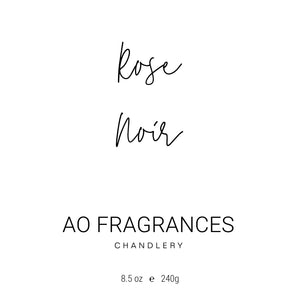 Rose Noir
Sale price Price $22.00 Regular price $0.00
Unveil the enigmatic allure of Rose Noir, a scent that transcends the ordinary and ventures into the realm of the intoxicating. One flicker of its wick, and your space transforms into a haven of sensual opulence, as if you've stepped into a secluded boudoir adorned with velvety drapes and vintage heirlooms.
The experience begins with the smoky richness of oud, a scent note as complex as it is captivating, enhanced by the spicy kick of peppercorn and the dark sweetness of blackberry. It's like the first sip of a vintage red wine, each nuance unfolding in a tantalizing dance on your palate.
But the heart of this narrative lies in its floral core, where the timeless elegance of rose melds with the spicy depth of carnation. This floral duo is not just a scent; it's a love story told in olfactory notes, each flicker adding a new chapter to this romantic tale.
Just when you thought the experience couldn't get any richer, velvet accents of myrrh, dark musk, and warm amber come swirling in, rounding out this multifaceted fragrance with a mysterious allure. It's the scent equivalent of a smoldering gaze across a candlelit room—deep, intense, and impossible to forget.
In keeping with our commitment to quality and attention to detail, Rose Noir is infused with an array of natural essential oils, including cedarwood, patchouli, and sandalwood. Each element is meticulously selected to contribute to this complex and seductive scent narrative.
So go ahead, light up this Rose Noir candle, and let its warm, woodsy notes fill your space, weaving a tale of romance and mystery with each flicker. Welcome to a world where each scent is a chapter in an endlessly captivating story, meticulously crafted for your olfactory pleasure.
Note Profile:

Top: Oud, Peppercorn, Blackberry
Middle: Rose, Carnation
Base: Myrrh, Dark Musk, Amber
55 hour burn time
8.5 oz by weight (12 fl oz Jar)
Phthalate free
100% Pure Soy Wax
Hand Poured in Northeast Florida