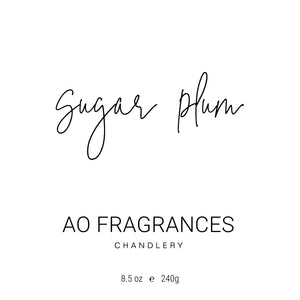 Sugar Plum
Sale price Price $22.00 Regular price $0.00
Step into a world of enchantment with our Sugar Plum candle, a heartwarming blend that captures the essence of holiday magic. This isn't just a candle—it's an invitation to embrace the cozy, the sweet, and the comforting.

At first light, the room fills with vibrant notes of citrus and a hint of black cherry, like a sparkly ornament catching the first rays of morning sun. These joyful top notes perfectly set the stage for the fragrance's star: a rich, dark plum heart that's as comforting as a holiday carol.

Just when you think the experience is complete, the base notes unfurl like the final gift under the Christmas tree. A luxurious blend of amber, sugar, and vanilla adds a caramelized warmth to the scent, while subtle notes of musk and freesia bring an earthy balance, ensuring the fragrance is never overly sweet but always inviting.

Infused with natural essential oils, including cedar, bergamot, and clary sage, this candle offers more than just a scent—it offers a story. A tale of holidays past, of cozy moments, and of the simple joy of being surrounded by comforting aromas. Sugar Plum is your invitation to relax, relish, and revel in the holiday spirit.
Note Profile:
Top: Citrus
Middle: Plum, Black Cherry
Base: Amber, Sugar, Light Musk, Freesia, Vanilla
55 hour burn time
8.5 oz by weight (12 fl oz Jar)
Phthalate free
100% Pure Soy Wax
Hand Poured in Saint Augustine Florida