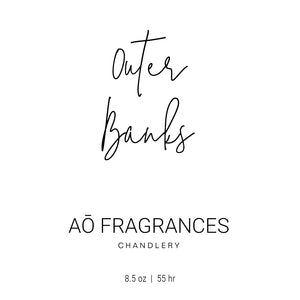 Outer Banks
Sale price Price $22.00 Regular price $0.00
Discover the captivating tale of the Outer Banks fragrance, a stormy sea adventure, and a hidden treasure. As the waves crashed against the shore, the air filled with a tantalizing blend of lemon, orange, and fresh ozone. Braving the storm, a daring explorer ventured towards the heart of briny sea salt, enchanted by the alluring hint of jasmine.
A mysterious powder and light musk enveloped the scene, revealing a woody violet and cedar chest, filled with the essence of cedarwood, orange, and elemi essential oils. This olfactory odyssey entwines water, sand, and salt, capturing the essence of a clean and ozonic scent, as thrilling as it is soothing.
Dive into the enchanting world of Outer Banks, and let your senses be your guide on this unforgettable journey.
Note Profile:
Top: Ozone, Citrus
Middle: Sea Salt, Jasmine
Base: Violet, Cedar, Powder, Light Musk