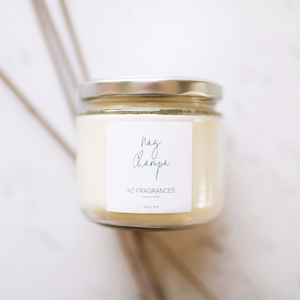 Nag Champa
Sale price Price $22.00 Regular price $0.00
Immerse yourself in the tranquil aura of our Nag Champa-inspired candle, a scent that pays homage to the timeless Satya Sai Baba Nag Champa incense from India. Designed to elevate your meditation sessions—or simply to enrich your space—this captivating fragrance embodies the essence of spiritual awakening.

As the candle burns, its earthy base notes of juniper and patchouli rise to the forefront, grounding the spirit and calming the mind. A rich layer of vanilla envelops the senses, adding a comforting warmth to the blend. But what sets this scent apart are the unexpected hints of rose geranium and jasmine, lending a touch of sweetness that elevates the fragrance from merely earthy to enchantingly complex.

Whether you're deep in meditation or simply enjoying a quiet moment, this fragrance invites you to explore the inner reaches of your soul. Infused with essential oils, it's a multisensory experience designed to harmonize body, mind, and spirit.

So light the wick and let the journey within begin. Here, in the company of this Nag Champa-inspired scent, you'll find a serene sanctuary that beckons you to breathe deeply, to reflect, and to simply be. Namaste.
Note Profile:
Top: Juniper, Patchouli
Middle: Vanilla
Base: Rose Geranium, Jasmine
55 hour burn time
8.5 oz by weight (12 fl oz Jar)
Phthalate free
100% Pure Soy Wax
Hand Poured in Saint Augustine Florida