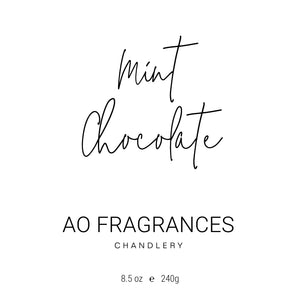 Mint Chocolate
Sale price Price $22.00 Regular price
Elevate your senses to a world of opulence with our Mint Chocolate candle, a luxurious take on a classic pairing that's nothing short of culinary artistry. Imagine walking into an upscale patisserie, where artisan chocolatiers have just unveiled their latest masterpiece: a Mint White Chocolate Ganache that's as visually stunning as it is irresistibly delicious.
As you light the wick, a bright, invigorating wave of peppermint greets you, accented by a delicate touch of sweet clove. It's like the first spoonful of that decadent ganache, where the minty freshness dances on your palate, leaving you yearning for more. And more you shall have! The scent deepens with sumptuous middle notes of lush cream and butter, as if you've bitten into the creamy core of the dessert itself.
But the pièce de résistance? A rich tapestry of white chocolate and comforting vanilla that envelops you in pure indulgence, adding a layer of sophistication to this gourmand experience. Each flicker of the flame is a testament to our commitment to quality, infused with a blend of natural essential oils including refreshing spearmint and aromatic clove leaf.
So go ahead, light up this Mint Chocolate candle and invite a touch of luxury into your everyday or special occasions. It's not just a scent; it's an invitation to indulge in the finer things, one flicker at a time. Welcome to a world where each aroma tells a tale of elegance, meticulously crafted for your sensory delight.
Note Profile:

Top: Peppermint, Clove
Middle: Cream, Butter
Base: Vanilla, White Chocolate
55 hour burn time
8.5 oz by weight (12 fl oz Jar)
Phthalate free
100% Pure Soy Wax
Hand Poured in Northeast Florida