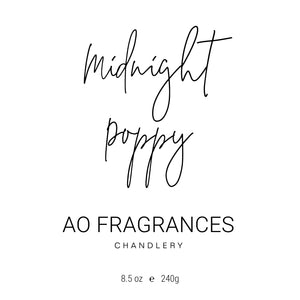 Midnight Poppy
Sale price Price $22.00 Regular price $0.00
Step into the mysterious allure of a midnight garden, where the moonlight dances on petals and the air is filled with the intoxicating aroma of night-blooming florals. Our Midnight Poppy candle encapsulates this magical atmosphere, offering a scent experience as enchanting as a moonflower opening its iridescent blossom under the night sky.
The scent story begins with a tempting overture of juicy pear and sweet agave, a duo that beckons you to venture deeper into the garden. As the flame flickers, soft floral and marine notes unfurl, as if kissed by the silvery beams of the moon. The crescendo? A powdery blend of dark musk and amber that envelopes you in a sultry embrace, echoing the sensual mystique of the night.
Infused with Italian lemon essential oil, this candle doesn't just bring fragrance into your space; it brings a whole nocturnal garden, meticulously crafted to meet our exacting standards of quality and detail. Light it up, and let the enchanting aroma fill your space, capturing the sweet serenity and exotic allure of a garden at midnight.
Welcome to a world of olfactory storytelling, where each flicker reveals another layer of a complex, multi-faceted narrative. With every light, you're not just filling your space with aroma; you're filling it with stories, each one crafted to offer an unforgettable sensory journey.
Note Profile:

Top: Pear, Agave
Middle: Rose, Marine, Cherry Blossom
Base: Powder, Dark Musk, Amber
55 hour burn time
8.5 oz by weight (12 fl oz Jar)
Phthalate free
100% Pure Soy Wax
Hand Poured in Northeast Florida