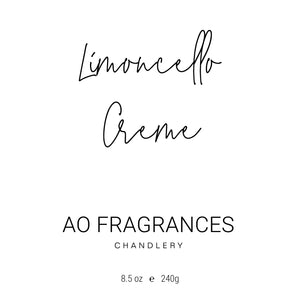 Limoncello Creme
Sale price Price $22.00 Regular price $0.00
Imagine a sunlit patio on the Amalfi Coast, where the air is imbued with the effervescent aroma of Limoncello being savored by locals and travelers alike. Our Limoncello Creme candle captures that very essence, inviting you to indulge in la dolce vita without stepping out of your home. A flicker of its wick, and your space is transformed, filled with the rich and tangy scent of this beloved Italian digestif.

As the flame dances, the experience deepens. Top notes of sugar, mint, and bergamot bring a sparkling brightness to the lemon-forward aroma. It's like sipping on Limoncello with a sprig of fresh mint, under a sky bursting with fireworks of citrus and sugar.

But hold on, there's a comforting twist! The scent story takes a turn for the indulgent, as tonka bean brings a deep, velvety richness that mellows the tartness, complemented by heavenly notes of cake and butter. It's a carnival of flavors and aromas, meticulously crafted to delight your senses.

Infused with a myriad of natural essential oils—ranging from sweet orange to invigorating spearmint and exotic ylang ylang—this candle is a testament to our relentless commitment to quality and intricate detail. Light it up, and let the aroma whisk you away to a Mediterranean paradise, one flicker at a time. Welcome to the sensory journey of a lifetime, where each flame narrates a tale of indulgence, luxury, and sheer olfactory joy.
Note Profile:

Top: Lemon, Sugar, Bergamot, Orange, Mint
Middle: Cake, Butter
Base: Tonka Bean, Honey
55 hour burn time
8.5 oz by weight (12 fl oz Jar)
Phthalate free
100% Pure Soy Wax
Hand Poured in Northeast Florida