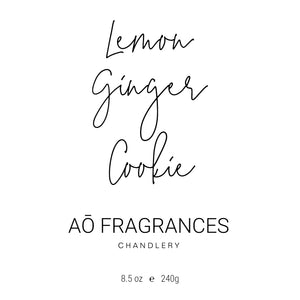 Lemon Ginger Cookie
Sale price Price $22.00 Regular price $0.00
Get ready to be transported back to those cherished holiday memories with the flicker of a flame. Imagine stepping into a kitchen filled with the intoxicating aromas of freshly baked cookies, the kind that grandma used to make. Welcome to the world of our Lemon Ginger Cookie candle—a scent so deliciously compelling, you'll swear you can almost taste it.

The moment you light this candle, the zesty notes of crystallized ginger dance through the air, a delightful aroma that evokes the irresistible snap of a homemade ginger cookie. Spiced to perfection, this scent is a symphony of cinnamon, clove, nutmeg, and allspice, each note carefully balanced to recreate that beloved holiday cookie recipe.

But wait, there's a twist. A subtle hint of lemon zest cuts through the rich spices, adding a citrusy brightness that elevates the fragrance into a culinary masterpiece. And just when you think it can't get any better, a dash of vanilla rounds out the scent, leaving a lingering sweetness that's comforting and familiar.

Infused with natural essential oils of orange, clove, and ginger, this candle doesn't just smell good—it feels good. Light it up and let the aroma fill your space, transforming any room into a cozy, holiday-inspired haven. So go ahead, indulge in this olfactory treat and make every day feel like the holidays. Your senses will thank you.
Note Profile:
Top: Lemon, Orange
Middle: Ginger, Sugar
Base: Vanilla, Cinnamon, Clove, Nutmeg, Allspice

55 hour burn time
8.5 oz by weight (12 fl oz Jar)
Phthalate free
100% Pure Soy Wax
Hand Poured in Saint Augustine Florida