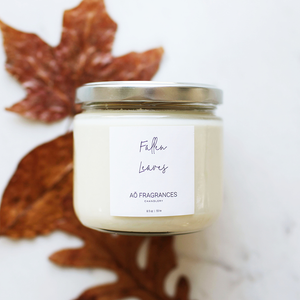 Fallen Leaves
Sale price Price $22.00 Regular price $0.00
Embrace the essence of autumn with our Fallen Leaves candle, a fragrance meticulously crafted to capture the enchanting aroma of a crisp fall day. Imagine stepping into a forest, where the ground is blanketed with a mosaic of colorful leaves and the air carries the scent of earthy richness. That's the inviting atmosphere this candle creates from the moment you light it.

As the wick flickers to life, top notes of cinnamon, citrus, and chrysanthemum greet your senses, setting the stage for an olfactory journey through the woods. Each flicker is an invitation to explore the depth of this scent story. As the flame dances, a luscious blend of apple and berries comes to the fore, mingling effortlessly with green leaves to create an aroma that's both sweet and earthy.

But the true magic of this fragrance lies in its base notes of pecan and cedar, which enhance its natural outdoor quality while perfectly balancing the fruit and spice elements. Infused with a medley of natural essential oils, including cinnamon leaf, cedarwood, and sandalwood, each flicker serves as a testament to our unwavering commitment to quality and meticulous attention to detail.

So go ahead, light up this Fallen Leaves candle and let its warm, inviting aroma fill your space. Whether you're curled up with a good book or sharing stories around a fire, this scent turns each moment into a cozy autumnal retreat. Welcome to a world where each flicker tells a story, meticulously crafted for your olfactory pleasure.
Note Profile:
Top: Citrus, Cinnamon, Chrysanthemum
Middle: Apple, Berry, Green Leaves
Base: Pecan, Cedar
55 hour burn time
8.5 oz by weight (12 fl oz Jar)
Phthalate free
100% Pure Soy Wax
Hand Poured in Saint Augustine Florida