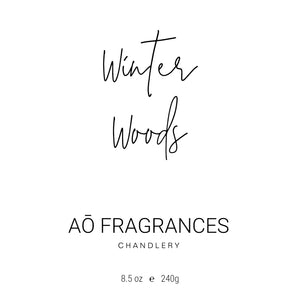 Winter Woods
Sale price Price $22.00 Regular price $0.00
Step into the serene embrace of a winter forest with our Winter Woods candle. As you light the wick, a refreshing burst of ozone, bay laurel, and invigorating eucalyptus fills the room, as if you've opened a window to a world blanketed in freshly fallen snow. It's an immediate breath of crisp mountain air that revitalizes the senses.

As the fragrance unfolds, the heart reveals an intricate blend of cypress, moss, and bayberry, reminiscent of a tranquil walk through a frost-laden forest. The scent of evergreens envelops you, their boughs heavy with snow, their needles blanketed in winter's quiet.

The base notes tie this captivating experience together. Warm undertones of fir balsam, patchouli, and ethereal incense resonate like the comforting embrace of a woolen blanket. It's as if the forest has invited you to partake in its winter slumber, offering a reprieve from the world outside.

Infused with a blend of natural essential oils—Fir, Patchouli, Eucalyptus, and Mint—Winter Woods is not just a scent, but an experience that transports you to an untouched winter sanctuary. So, close your eyes, take a deep breath, and let Winter Woods guide you through a pristine, snow-covered landscape, where peace reigns and the soul is rekindled.
Note Profile:
Top: Ozone, Bay Laurel, Eucalyptus
Middle: Cypress, Moss, Bayberry
Base: Incense, Patchouli, Fir Balsam
55 hour burn time
8.5 oz by weight (12 fl oz Jar)
Phthalate free
100% Pure Soy Wax
Hand Poured in Saint Augustine Florida