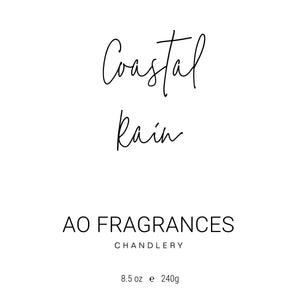 Coastal Rain
Sale price Price $22.00 Regular price $0.00
Step into a serene coastal haven with our Coastal Rain candle. As the wick flickers to life, the air is infused with the crisp notes of ozone and linen, evoking the freshness of a gentle ocean breeze weaving through your open windows. It's like the scent of rain meeting the sea, a purifying moment for the soul.

As you journey through this refined olfactory landscape, a delicate harmony of freesia and eucalyptus emerges, capturing the essence of sea salt carried on a coastal zephyr. It's a bouquet that's as refreshing as a walk on a secluded beach, where every step leaves a footprint on wet sand and your thoughts are as free as the horizon.

The experience is grounded with an earthy base of moss, lightly accented by a touch of powder, creating an atmosphere that's as tranquil as it is invigorating. It's a scent that is both clean and complex, a fragrance that is equally suited to moments of introspective solitude and intimate gatherings.

Skillfully blended with a curated selection of natural essential oils—including patchouli, eucalyptus, pine, and citronella—Coastal Rain offers a refined olfactory experience that is both invigorating and soothing. Illuminate your space with this scent and let the serenity of an untouched coastline wash over you.
Note Profile:

Top: Linen, Ozone
Middle: Freesia, Sea Salt, Eucalyptus
Base: Moss, Powder
55 hour burn time
8.5 oz by weight (12 fl oz Jar)
Phthalate free
100% Pure Soy Wax
Hand Poured in Saint Augustine Florida