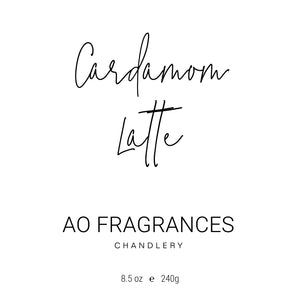 Cardamon Latte
Sale price Price $22.00 Regular price
Ah, the essence of autumn captured in a flickering flame! Our Cardamom Latte candle is an olfactory experience that transcends the ordinary. Picture yourself in a cozy café, sipping on a velvety latte infused with the exotic warmth of cardamom and a dash of cinnamon. From the moment you light this candle, that's the kind of indulgence you'll be wrapped in.
But this scent journey offers more than a trip to your favorite coffee spot. A subtle nuance of roasted chestnut adds an unexpected layer, weaving a rich tapestry of comfort and sophistication. It's the perfect aroma for cozy evenings with a good book or festive holiday gatherings around the crackling fireplace.
Infused with natural essential oils—including the soul-warming essence of cardamom—this candle is more than just a delightful fragrance. It's an invitation to an olfactory exploration, crafted with meticulous attention to detail, a testament to our unwavering commitment to quality.
So go ahead, light up this Cardamom Latte candle and let its warm, inviting aroma fill your space. Welcome to a world where each flicker narrates a chapter of cozy luxury and autumnal elegance, meticulously crafted for your olfactory pleasure.
Note Profile:

Top: Cinnamon, Peppercorn
Middle: Cream, Black Cardamom, Ginger
Base: Tonka Bean, Chestnut, Wood
55 hour burn time
8.5 oz by weight (12 fl oz Jar)
Phthalate free
100% Pure Soy Wax
Hand Poured in North East Florida