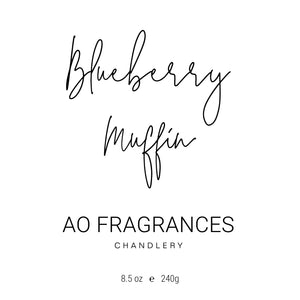 Blueberry Muffin
Sale price Price $22.00 Regular price $0.00
Step into the comforting embrace of childhood memories and home-baked bliss with our Blueberry Muffin candle. A flicker of the wick takes you on a sensory journey—first stop, a bustling kitchen where the aroma of zesty lemon zest and succulent blueberries meld in perfect harmony. Here, the scent story unfolds, as notes of creamy milk and whipped butter waltz in, turning your space into a haven of indulgence.
As the flame dances, the rich vanilla base takes center stage, giving the scent a depth that's as satisfying as the last bite of your favorite blueberry muffin. But wait, there's a twist! A whiff of this enchanting blend might just transport you to those carefree Saturday mornings, bowl of fruity cereal in hand, cartoons lighting up the screen. Ah, the nostalgia!
Made with an unyielding commitment to quality, our candle is infused with a potpourri of natural essential oils—think lemon, sweet orange, and even a touch of clove bud and eucalyptus. This results in a fragrance that's not just a treat for the senses, but a full-bodied experience. So go ahead, light it up and let the warm, inviting aroma fill your space, turning ordinary moments into extraordinary memories. Welcome to your new olfactory playground, where each flicker narrates a deliciously compelling tale.
Note Profile:

Top: Lemon
Middle: Blueberry, Milk, Butter
Base: Vanilla
55 hour burn time
8.5 oz by weight (12 fl oz Jar)
Phthalate free
100% Pure Soy Wax
Hand Poured in North East Florida