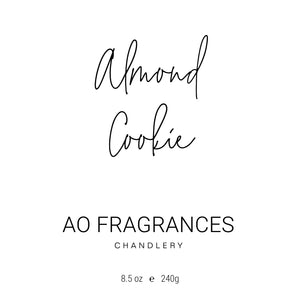 Almond Cookie
Sale price Price $22.00 Regular price
Ah, the irresistible allure of an almond cookie, lovingly crafted and freshly baked in a quaint Parisian patisserie! Our Almond Cookie candle brings this fantasy to life, captivating your senses from the first flicker of its wick. As the flame dances, it releases the heartwarming aroma of nutty almond, meticulously refined and deepened with notes of creamy amaretto.
But that's just the prelude. A burst of zesty lemon, spicy nutmeg, and a dash of cinnamon come waltzing in, turning the scent into an olfactory celebration. And as the final, luxurious touch, base notes of vanilla and sugar sweetly serenade your senses, transporting you to full-on dessert nirvana.
Crafted with unwavering attention to detail, this candle is infused with natural essential oils—including a touch of sweet orange—to elevate your sensory journey. Light it up and find yourself whisked away to a charming corner of Paris, right from the comfort of your own space. Welcome to the world of sophisticated gourmand scents, where each flicker tells a delicious story.
Note Profile:
Top: Cinnamon, Nutmeg, Lemon Peel
Middle: Amaretto, Almond
Base: Vanilla, Sugar
55 hour burn time
8.5 oz by weight (12 fl oz Jar)
Phthalate free
100% Pure Soy Wax
Hand Poured in North East Florida