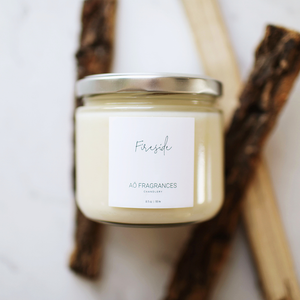 Fireside
Sale price Price $22.00 Regular price $0.00
Introducing Fireside, a fragrance that encapsulates the quintessential experience of gathering around a cozy fire. This is not just a candle; it's a warm embrace for your senses, a nostalgic trip down memory lane, a comfort zone captured in a jar.

From the moment you light it, Fireside greets you with smoky notes that immediately transport you to evenings spent around a crackling hearth. The scent unfolds further with the rich, warm aromas of clove, adding a touch of spice that's as comforting as your favorite blanket.

As the fragrance blossoms, you'll discover a heart of amber—resinous, golden, and enveloping. This is where the scent finds its warmest notes, like the glowing embers at the bottom of a fire. Sandalwood and patchouli round out the experience, lending it an earthy depth that lingers in the room long after the flame is extinguished.

Infused with the essence of a real fireside experience, this fragrance transforms any space into a sanctuary of warmth and relaxation. Whether it's a brisk autumn evening or a frigid winter's night, Fireside offers a warm welcome, inviting you to gather around and bask in its comforting glow.

So go ahead, light up Fireside, and fill your space with the warm, comforting, and undeniably nostalgic aroma of sitting by a cozy fire. It's more than just a scent; it's a feeling, an experience, a cherished memory captured in every flicker.
Note Profile:
Top: Saffron
Middle: Clove, Incense, Sandalwood
Base: Amber, Patchouli, Smoke
55 hour burn time
8.5 oz by weight (12 fl oz Jar)
Phthalate free
100% Pure Soy Wax
Hand Poured in Saint Augustine Florida