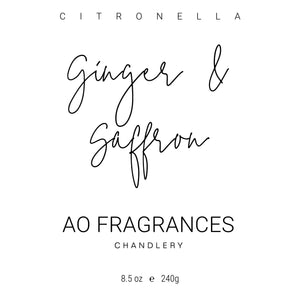 Ginger & Saffron Citronella
Sale price Price $22.00 Regular price $0.00
Breathe in the story of a timeless journey with our Ginger and Saffron Citronella fragrance, a narrative in every inhale. This is not just a scent, it's an experience - a sensory expedition that commences with the powerful allure of warming spices.
From the first moments, potent whispers of ginger and saffron present a captivating prologue that guides you into the aromatic heart of the tale. The plot thickens with a lively burst of citronella, an essence reminiscent of summer nights under open skies. Intertwining notes of savory nutmeg and rich cardamom offer a twist, lending complexity and depth to our vibrant scent story.
Like the comforting close of a beloved book, this tale ends on a soothing note. The grounding tones of dark musk, juniper, and aromatic patchouli tie the narrative together, casting long rays of sunshine onto a story well told.
Each handcrafted candle infused with this enticing fragrance is like a chapter in a book, an element of the adventure. 
Crafted with natural essential oils - citronella, patchouli, juniper, cedarwood, nutmeg, elemi, eucalyptus, clove leaf, and cardamom, our Ginger and Saffron Citronella fragrance is a scented manuscript, an invitation to explore through aroma.
With Ginger and Saffron Citronella, you're not just lighting a candle, you're turning a page. Let the scent carry you away, the story is waiting to unfold...
Note Profile:
Top: Ginger, Saffron
Middle: Citronella, Nutmeg, Cardamom
Base: Juniper, Patchouli, Dark Musk
55 hour burn time
8.5 oz by weight (12 fl oz Jar)
Phthalate free
100% Pure Soy Wax
Hand Poured in Saint Augustine Florida