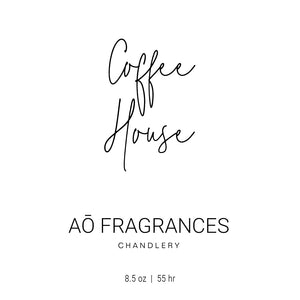 Coffee House
Sale price Price $22.00 Regular price $0.00
Indulge in the cozy aroma of our Coffee House candle, a scent meticulously crafted to replicate the inviting ambiance of your favorite café. Imagine walking into a quaint coffee shop on a crisp morning, where the air is filled with the intoxicating aroma of freshly brewed hazelnut coffee. That's the comforting atmosphere this candle creates from the moment you light it.

As the wick flickers to life, top notes of toasted hazelnut and fresh coffee waft through the air, capturing the essence of a steaming cup of gourmet brew. Each flicker is a sensory invitation, drawing you deeper into this olfactory experience. But the true heart of this scent lies in its medium roast coffee profile, enhanced by a flourish of toasted hazelnut and just a whisper of coconut. It's like sitting down with your favorite barista-crafted beverage, each flicker a sip of aromatic delight.

And for the grand finale, base notes of cream, maple, and vanilla add a creamy sweetness, rounding out this rich, nutty coffee aroma. Every flicker of this candle serves as a testament to our commitment to quality, attention to detail, and infusion of natural essential oils.

So go ahead, light up this Coffee House candle and let its warm, inviting aroma transform your space into your very own café sanctuary. Whether you're starting your day or winding down, this scent turns each moment into a cozy retreat, inviting you to sit back, relax, and savor life's simple pleasures. Welcome to a world where each flicker tells a story, meticulously crafted to offer an unforgettable sensory experience.
Note Profile:
Top: Hazelnut
Middle: Hazelnut, Coffee, Coconut
Base: Vanilla, Cream, Maple
55 hour burn time
8.5 oz by weight (12 fl oz Jar)
Phthalate free
100% Pure Soy Wax
Hand Poured in Saint Augustine Florida