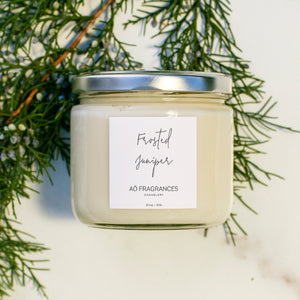 Frosted Juniper
Sale price Price $22.00 Regular price $0.00
Introduce your senses to the wintry allure of our Frosted Juniper candle. This isn't just another holiday scent; it's an intricate tapestry of aromas that transport you to a snow-laden forest. As you light the wick, you'll first encounter the invigorating notes of cooling camphor, airy ozone, and a spritz of citrus, like a crisp winter breeze.

But wait, the journey isn't over. As the fragrance unfolds, you'll find yourself wrapped in a cozy blanket of deep red berry, perfectly balancing the woody pine and juniper that follow. It's as if you're strolling through a forest, the ground crunching beneath your boots, while the air is filled with the scent of fresh evergreens and ripe winter berries.

This complex aroma is fortified with a carefully selected blend of essential oils, including eucalyptus, fir needle, lemon, and more. These oils elevate the fragrance, making it an aromatic experience you won't soon forget.

So go ahead, light up Frosted Juniper, and let the candle do the storytelling. You'll find yourself entranced by its wintry tale, making it a perfect companion for the chilly months or any time you wish to revisit that crisp, forested wonderland.
Note Profile:
Top: Ozone, Camphor, Citrus
Middle: Pine, Red Currant, Berry, Pear, Cherry Blossom
Base: Juniper, Sage
55 hour burn time
8.5 oz by weight (12 fl oz Jar)
Phthalate free
100% Pure Soy Wax
Hand Poured in Saint Augustine Florida