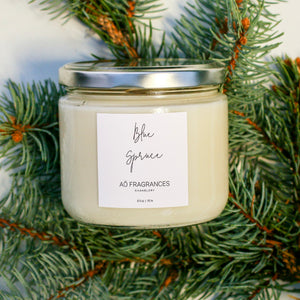 Blue Spruce
Sale price Price $22.00 Regular price $0.00
Step into the wintery wonderland of our Blue Spruce candle, a fragrance that encapsulates the crisp, invigorating aroma of freshly-cut Christmas trees. This isn't just any spruce scent; it's an olfactory expedition that starts with an energizing burst of citrus, followed by a cozy blend of cypress and moss. And for the finale? A grounding base of spruce, pine, and cedarwood that makes any space feel like a cozy cabin in the woods.
But it's not just about the holidays. This candle captures the timeless experience of a forest trek, the thrill of identifying that one perfect tree among a sea of green. It's the aroma of nature distilled into a single, glorious scent.
What sets it apart? The complexity. Enhanced with natural essential oils of cedarwood and pine, and layered with unique notes like cinnamon and spearmint, this fragrance is far from one-dimensional. It's a sensory experience that evolves, revealing new facets as it burns.
Imagine sitting by a roaring fire, your freshly cut spruce tree twinkling in the corner. With our Blue Spruce candle, you won't have to imagine—you'll be there. Enjoy this enchanting scent and let it transport you to memorable moments and dreamy landscapes. Welcome to a world where each scent narrates a captivating story.
Note Profile:
Top: Cinnamon, Spearmint
Middle: Cypress, Moss
Base: Spruce, Pine, Cedarwood
55 hour burn time
8.5 oz by weight (12 fl oz Jar)
Phthalate free
100% Pure Soy Wax
Hand Poured in Saint Augustine Florida