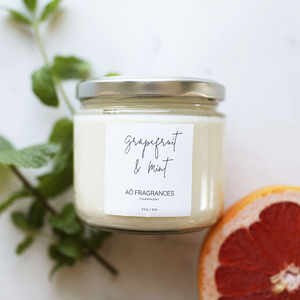 Grapefruit & Mint
Sale price Price $22.00 Regular price $0.00
Introducing Grapefruit and Mint, the epitome of summertime zest wrapped up in a candle. Imagine slicing into a sun-ripened grapefruit on a hot day—its tangy aroma immediately filling the air. Now, add a sprig of garden-fresh mint to the mix, and what you have is a fragrance that's not just refreshing; it's a vibrant dance of invigorating freshness.

From the moment you light it, this candle bursts forth with zesty grapefruit notes so authentic, you'd swear you just peeled the fruit itself. But then comes the mint, an herbal infusion that balances the citrusy tang, steering the scent profile into an exhilarating blend that smells like summer feels—cool, fresh, and infinitely inviting.

A dash of lavender and rhubarb give the fragrance a nuanced complexity, like a twist in a well-crafted cocktail. These subtle notes are the whisper in the background of a lively conversation, adding a layer of sophistication to the experience.

Infused with an array of natural essential oils—grapefruit, mandarin, orange, and more—this scent is an olfactory delight designed to elevate any space. Whether you're hosting a summer soirée or simply looking for a way to brighten your day, Grapefruit and Mint is your go-to fragrance.

So go ahead, light up Grapefruit and Mint, and let its lively, sophisticated aroma transform your space into a breezy summer haven. It's a refreshing experience that delights the senses and lifts the spirits. Welcome to a world of aromatic excellence.
Note Profile:
Top: Grapefruit, Rhubarb, Mint
Middle: Lavender, Rose, Apple
Base: Vanilla
55 hour burn time
8.5 oz by weight (12 fl oz Jar)
Phthalate free
100% Pure Soy Wax
Hand Poured in Saint Augustine Florida