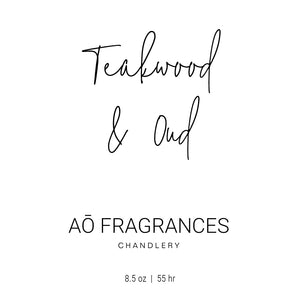 Teakwood & Oud
Sale price Price $22.00 Regular price $0.00
Elevate your space with our Teakwood and Oud candle, a fragrance meticulously crafted to capture the essence of modern sophistication. Imagine stepping into a contemporary art gallery, where the air is filled with the buzz of cultured conversations and the allure of high-end appeal. That's the atmosphere this candle creates from the moment you light it.

As the wick flickers to life, top notes of amaretto and powder immediately greet your senses, setting the stage for a truly complex scent experience. Each flicker is an invitation to delve deeper into this olfactory journey. As the flame dances, a rich heart of tonka and balsam emerges, enveloping your space in an aura of contemporary opulence.

But the soul of this fragrance lies in its luxurious base—a blend of rum, musk, and sweet, resinous oud that lingers like the memory of an unforgettable evening. Infused with natural essential oils like fir needle and cedarwood, each flicker serves as a testament to our unwavering commitment to quality and meticulous attention to detail.

So go ahead, light up this Teakwood and Oud candle and let its complex, modern aroma fill your space. Whether you're entertaining esteemed guests or simply savoring a moment of solitude, this scent sets the perfect tone. Welcome to a world where each flicker tells a story, meticulously crafted for your olfactory pleasure.
Note Profile:
Top: Powder, Amaretto
Middle: Tonka, Balsam
Base: Rum, Light Musk, Dark Musk, Oud
55 hour burn time
12 fl oz Jar
Phthalate free
100% Pure Soy Wax
Hand Poured in Saint Augustine Florida