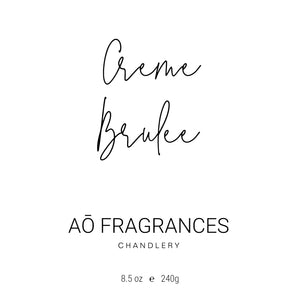 Crème Brulee
Sale price Price $22.00 Regular price $0.00
Indulge in the sweet sophistication of our Crème Brûlée candle, a fragrance meticulously crafted to evoke the opulence of a fine dining experience. Imagine sitting in a chic Parisian café, where a waiter presents a delicate ramekin of crème brûlée, its sugar crust perfectly caramelized. That's the luxurious atmosphere this candle recreates from the moment you light it.

As the wick flickers to life, your senses are immediately greeted by top notes of lightly torched sugar and a subtle hint of coconut. It's like the first crack of a spoon breaking through the caramelized crust, each flicker an invitation to explore the layers of this olfactory narrative. But this scent story has a creamy twist. As the flame dances, a rich custard heart comes to the fore, enveloping your space in a luscious aroma that's as comforting as it is luxurious.

And for the grand finale, base notes of vanilla and maple are elevated by a dash of rum, adding an intoxicating sweetness to this complex scent. Infused with natural essential oils like vanilla absolute and styrax resin, each flicker serves as a testament to our commitment to quality and meticulous attention to detail.

So go ahead, light up this Crème Brûlée candle and let its delectable aroma transform your space into a gourmet haven. Whether you're entertaining guests or enjoying a quiet evening alone, this scent sets the perfect tone, inviting you to indulge in life's sweeter moments. Welcome to a world where each flicker tells a story, meticulously crafted for your olfactory pleasure.
Note Profile:
Top: Caramelized Sugar, Coconut
Middle: Custard, Rum
Base: Vanilla, Maple, Benzoin
55 hour burn time
8.5 oz by weight (12 fl oz Jar)
Phthalate free
100% Pure Soy Wax
Hand Poured in Saint Augustine Florida