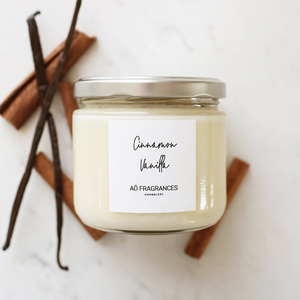 Cinnamon Vanilla
Sale price Price $22.00 Regular price $0.00
Indulge in the comforting embrace of our Cinnamon Vanilla candle, a fragrance that marries the spicy richness of cinnamon with the creamy sweetness of vanilla. Imagine stepping into a cozy kitchen where the air is filled with the tantalizing aroma of freshly baked cinnamon rolls, glazed with velvety vanilla frosting. That's the inviting atmosphere this candle recreates from the moment you light it.

As the wick flickers to life, your senses are immediately greeted by the full-bodied scent of spicy cinnamon. It's like the first whiff of a warm cinnamon pastry, each flicker an invitation to delve deeper into this olfactory narrative. But the plot sweetens as the flame dances, revealing luscious undertones of vanilla that fill your space with a mouthwatering aroma reminiscent of homemade desserts.

Infused with natural essential oils, including guaiacwood and guardian balsam, this Cinnamon Vanilla candle is more than just a scent; it's an experience, meticulously crafted to meet our high standards of quality and detail.

So go ahead, light up this Cinnamon Vanilla candle and let its delicious, comforting aroma fill your space. It's perfect for the fall and holiday seasons or anytime you crave the aromatic blend of spice and sweetness. Welcome to a world where each flicker tells a story, meticulously crafted for your olfactory delight.
Note Profile:
Top: Cinnamon, Clove
Middle: Cream
Base: Vanilla
55 hour burn time
8.5 oz by weight (12 fl oz Jar)
Phthalate free
100% Pure Soy Wax
Hand Poured in Saint Augustine Florida