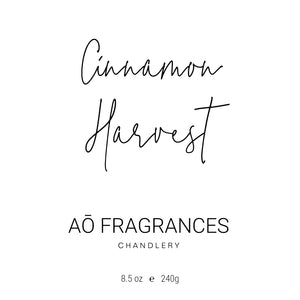 Cinnamon Harvest
Sale price Price $22.00 Regular price $0.00
Ignite a sensory celebration with our Cinnamon Harvest candle, a fragrance that captures the rich, full-bodied essence of cinnamon in all its glory. Imagine being in a cozy cabin during the holiday season, where the air is perfumed with the aroma of whole cinnamon sticks simmering on the stove. That's the festive atmosphere this candle recreates from the moment you light it.

As the wick flickers to life, top notes of cinnamon leaf and toasted nutmeg immediately fill your senses, setting the stage for an olfactory feast. As the flame burns, the scent deepens, revealing a heart of fresh ground cinnamon and a whisper of crushed clove. It's like being enveloped in a warm, aromatic hug, each flicker enhancing the comforting ambiance.

And for the grand finale, smooth undertones of vanilla, tonka, and cinnamon bark round out this intricately crafted fragrance, adding a touch of sweetness to its spicy profile. Each flicker serves as a testament to our unwavering commitment to quality, infused with natural essential oils like cinnamon leaf and cassia leaf to reinforce the authentic aromas.

So go ahead, light up this Cinnamon Harvest candle and let its rich, woody aroma fill your space. Whether it's a festive gathering or a quiet night in, this scent adds a layer of warmth and comfort, inviting you to bask in its nostalgic glow. Welcome to a world where each flicker tells a story, meticulously crafted to add a festive flair to any occasion.
Note Profile:
Top: Cinnamon, Nutmeg
Middle: Clove, Cinnamon
Base: Wood, Vanilla, Tonka, Cinnamon
55 hour burn time
8.5 oz by weight (12 fl oz Jar)
Phthalate free
100% Pure Soy Wax
Hand Poured in Northeast Florida