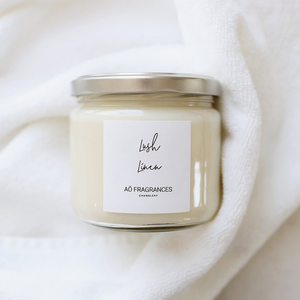 Lush Linen
Sale price Price $22.00 Regular price $0.00
Step into a world of sheer luxury every time you light our Lush Linen candle. Imagine sun-bleached linens, freshly laundered and swaying in a soft breeze, enveloped in an intoxicating blend of lemon blossoms and white tea infusions. It's an experience that captures the essence of clean sophistication, turning any room into a serene sanctuary.

As the candle burns, the fragrance unfurls, revealing the delicate aroma of blooming muguet—a floral note that amplifies the scent's inherent sweetness. But just when you think you have it figured out, the fragrance takes another elegant turn. A touch of sandalwood adds depth, grounding the airy, ozonic notes, while a wisp of vanilla lends a warm, inviting complexity.

This isn't just a candle; it's an atmosphere, an experience tailored for those moments when only the finest will do. Perfect for gracing foyers, enhancing weddings, or elevating any formal event, Lush Linen offers an upscale aromatic journey that complements any setting.

Infused with natural essential oils like Patchouli, this complex fragrance isn't just a scent—it's an invitation to indulge in the finer things in life. So go ahead, light it up and let the luxurious aroma fill your space. Your senses will bask in the opulence.
Note Profile:
Top: Ozone, Lemon Blossom, White Tea
Middle: Linen, Muguet
Base: Sandalwood, Vanilla, Sheer Musk

55 hour burn time
8.5 oz by weight (12 fl oz Jar)
Phthalate free
100% Pure Soy Wax
Hand Poured in Saint Augustine Florida