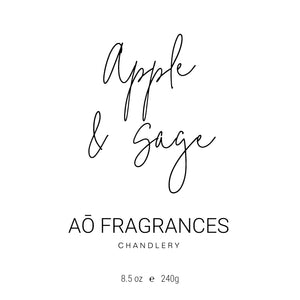 Apple & Sage
Sale price Price $22.00 Regular price $0.00
Ah, Apple & Sage—the scent that transports you straight to a lush, verdant orchard where enchantment hangs in the air. Imagine stepping into this magical grove, where trees laden with ripe apples beckon you to explore the secrets that lie within. That's the journey our Apple & Sage candle offers from the moment you light it.
As the wick flickers to life, the sweet, crisp aroma of apple wafts through the air, like the first bite of a freshly picked fruit. Each flicker is an invitation to delve deeper into this olfactory narrative, where middle notes of sage and pineapple come swirling in. These enchanting notes blend effortlessly, creating an alluring aroma that fills your space with a sense of wonder.
But the heart of this scent story lies beneath the lush canopies, where comforting base notes of coconut water and eucalyptus whisper their secrets. Each flicker is a moment of serenity, a soothing embrace that invites you to relax and be present.
Infused with natural essential oils, this Apple & Sage candle reflects our dedication to quality and attention to detail. It's more than just a scent; it's an idyllic experience, meticulously crafted to meet our high standards. So go ahead, light up this Apple & Sage candle, and let its captivating aroma fill your space, turning each moment into a chapter in a story of enchantment and tranquility. Welcome to a world where each flicker tells a tale, meticulously crafted for your olfactory pleasure.
Note Profile:

Top: Apple
Middle: Sage, Pineapple
Base: Coconut Water, Eucalyptus
55 hour burn time
8.5 oz by weight (12 fl oz Jar)
Phthalate free
100% Pure Soy Wax
Hand Poured in Northeast Florida