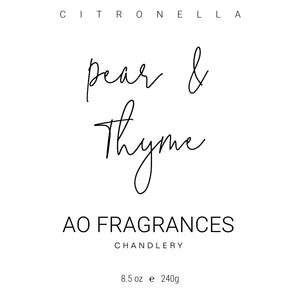 Pear & Thyme Citronella
Sale price Price $22.00 Regular price $0.00
Bask in the sun-drenched harmony of nature and sophistication with our Pear and Thyme candle, a fragrance that takes citronella to new, elegant heights. Imagine strolling through an orchard where juicy pears hang like ornaments on tree branches, their sweetness in the air, mingling with the aromatic whispers of thyme and sage.
From the moment you light the wick, your space is infused with the invigorating top notes of crisp pear and tart lemon, playfully spiced up by a dash of black pepper. It's like biting into a ripe pear, its juice tingling on your palate, enhanced by the zing of freshly ground pepper.
As the flame dances, the heart of the orchard reveals itself. Verdant citronella takes center stage, harmoniously entwined with the fruity richness of currant and the savory depth of thyme and sage. Finally, a foundation of dark musk and cedar adds a grounding touch, rounding out this savory and sweet narrative in perfect balance.
Infused with an array of natural essential oils—citronella, anise, black pepper, and thyme—this candle embodies our unwavering commitment to quality and intricate detail. Whether you're looking to enrich your daily moments or special occasions, this scent offers an olfactory experience that's both comforting and invigorating.
So go ahead, light up this Pear and Thyme candle and let its rich, complex aroma transform your space. Welcome to a world of olfactory storytelling, where each flicker offers a sensory journey that's as enchanting as a sunlit orchard, meticulously crafted for your delight.
Note Profile:

Top: Pear, Lemon, Black Pepper
Middle: Citronella, Thyme, Sage, Red Currant
Base: Dark Musk, Cedar
55 hour burn time
8.5 oz by weight (12 fl oz Jar)
Phthalate free
100% Pure Soy Wax
Hand Poured in Northeast Florida