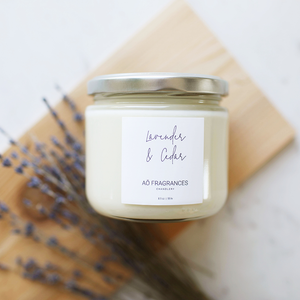 Lavender & Cedar
Sale price Price $22.00 Regular price $0.00
Introducing a candle that redefines the essence of masculinity—a fragrance that combines the invigorating aroma of camphor and the rugged notes of cedarwood with the soothing touch of lavender. Picture yourself stepping into a pine forest, the air crisp and tinged with the scent of fresh pine needles underfoot. Now, imagine this scent elevated by an undercurrent of aromatic lavender buds, grounding the experience and adding a touch of tranquility.

The moment you light this candle, the bold notes of camphor fill the air, instantly capturing your attention. It's a scent that's as adventurous as a hike through a dense forest. But just when you think you've got it figured out, in comes the surprise: a burst of crushed pine tips that refreshes and revives, as if you've just found a clearing in the woods.

The subtlety of lavender buds weaves its way through the fragrance, a calming presence that softens the blend. This isn't just a lavender scent; it's lavender reimagined, its soothing properties complemented by the rich, warm embrace of cedarwood.

This is a fragrance for the lavender lovers who crave something more—a scent that offers a comforting embrace without sacrificing its bold, adventurous spirit. It's complex, it's sophisticated, and it's utterly captivating. So go ahead, light it up and immerse yourself in an aromatic experience that is as compelling as it is relaxing. Welcome to a new level of olfactory indulgence.
Note Profile:
Top: Lavender
Middle: Camphor
Base: Cedarwood, Pine
55 hour burn time
8.5 oz by weight (12 fl oz Jar)
Phthalate free
100% Pure Soy Wax
Hand Poured in Saint Augustine Florida