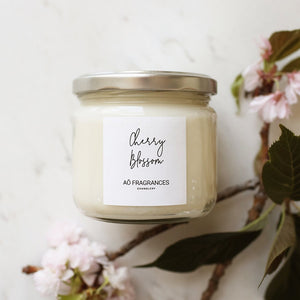 Cherry Blossom
Sale price Price $22.00 Regular price $0.00
Introducing Cherry Blossom, a fragrance that captures the fleeting beauty of spring in full bloom. This isn't just another floral scent; it's an olfactory experience that brings the enchanting allure of cherry blossom festivals right into your space.

The fragrance opens with the ethereal touch of blooming cherry blossoms, a scent so fresh and revitalizing, it's like walking through a grove dotted with these delicate pink wonders. Magnolia and rose infuse the core of this fragrance with an undeniable floral sophistication.

But Cherry Blossom doesn't stop there. To give this airy scent its grounding touch, we've added subtle hints of cherry, tonka bean, and sandalwood. These base notes add a gentle warmth and complexity that elevate Cherry Blossom from a simple floral to a nuanced, multi-dimensional experience.

Infused with natural essential oils, including Texas Cedarwood, this fragrance offers a clean, refined aroma that's perfect for any setting. Whether you're hosting a springtime gathering or simply enjoying a quiet moment alone, Cherry Blossom brings the awe-inspiring beauty of spring into your home, whenever you wish.

So go ahead, light up Cherry Blossom and let its refreshing, elegant aroma transport you to a world where cherry blossoms grace the skies like pink-hued clouds at the peak of spring. It's a fleeting moment, captured eternally in this captivating fragrance.
Note Profile:
Top: Cherry Blossom, Magnolia, Ozone
Middle: Rose, Cherry
Base: Tonka Bean, Sandalwood

55 hour burn time
8.5 oz by weight (12 fl oz Jar)
Phthalate free
100% Pure Soy Wax
Hand Poured in Saint Augustine Florida