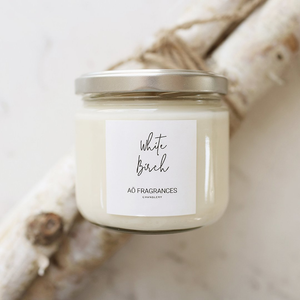 White Birch
Sale price Price $22.00 Regular price $0.00
Introducing White Birch—a fragrance that transcends the ordinary pine scent, elevating it to new heights of sophistication. Imagine a wintry forest where eucalyptus and cypress dance in the air, leading you to a sanctuary of evergreens. It's a scent that is crisp yet comforting, with a unique aromatic blend that captivates and intrigues.

The heart of this fragrance lies in the striking notes of tonka bean, which add an unexpected twist to the traditional pine aromas. It's a scent that not only captures the essence of winter but also has the versatility to grace your space year-round as a luxurious evergreen fragrance.

Infused with a curated blend of natural essential oils—including fir needle, cedarwood, and eucalyptus—White Birch is an invitation to explore the nuanced notes that make up its complex profile. Whether you're seeking to elevate your winter candle collection or looking for a unique, year-round fragrance, White Birch offers an aromatic experience that is as sophisticated as it is inviting.
Note Profile:
Top: Eucalyptus, herbs, aromatic
Middle: Cypress, pine needles
Base: Tonka beans, vanilla
55 hour burn time
8.5 oz by weight (12 fl oz Jar)
Phthalate free
100% Pure Soy Wax
Hand Poured in Saint Augustine Florida