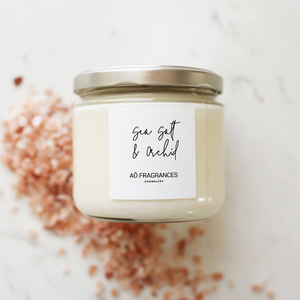 Sea Salt & Orchid
Sale price Price $22.00 Regular price $0.00
Unveil an oasis of serenity in your home with our Sea Salt and Orchid candle—a timeless scent that captivates and transports. Imagine the gentle caress of a coastal breeze, carrying whispers of crisp ozonic notes that lead you to an ethereal blend of sea salt and lush green leaves. But that's just the beginning.

As you delve deeper into this luxurious aroma, intoxicating freesia flowers come to life, adding an opulent layer that's nothing short of mesmerizing. The fragrance culminates in a soft, tranquil base of tonka bean, amber, and a hint of musk, leaving a lasting impression that's both soothing and invigorating.

Expertly infused with a curated selection of essential oils—including sweet orange peel, lemon, eucalyptus, and clove leaf—this fragrance transforms any space into a haven of upscale tranquility. It's a scent that transcends seasons, making it perfect for any time of the year.

Whether you're looking to elevate your daily rituals or gift a memorable experience, this scent is more than just a fragrance; it's a journey for the senses. Light it up and let the aromatic adventure unfold.

Note Profile:
Top: Green, fruity
Middle: Jasmine, muguet
Base: Wood, cream
55 hour burn time
8.5 oz by weight (12 fl oz Jar)
Phthalate free
100% Pure Soy Wax
Hand Poured in Saint Augustine Florida