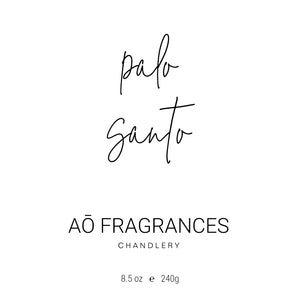 Palo Santo
Sale price Price $22.00 Regular price $0.00
Find your center with our Palo Santo-inspired candle, a fragrance meticulously crafted to capture the essence of tranquility and well-being. Imagine stepping into a serene sanctuary, where the air is filled with the calming, cleansing aromas of ancient rituals. That's the peaceful atmosphere this candle creates from the moment you light it.

As the wick flickers to life, your space is transformed into a haven of restfulness, reminiscent of the traditional uses of Palo Santo in South American cultures. Though our fragrance doesn't contain any actual Palo Santo, each flicker is a nod to its storied history, an invitation to ground yourself in its calming properties. Infused with natural essential oils like elemi, the scent serves as a testament to our unwavering commitment to quality and meticulous attention to detail.

Whether you're seeking to clear negative energy or simply create a space of serenity, this scent sets the perfect tone, inviting you into a world of well-being and relaxation. Go ahead, light up this Palo Santo-inspired candle and let its soothing aroma elevate your space. Welcome to a world where each flicker tells a story, meticulously crafted for your olfactory pleasure.
Note Profile
Top: Cardamom, Citrus 
Middle: Palo Santo, Violet, Saffron
Base: Smoke, Wood, Sandalwood, Amber
55 hour burn time
8.5 oz by weight (12 fl oz Jar)
Phthalate free
100% Pure Soy Wax
Hand Poured in Saint Augustine Florida