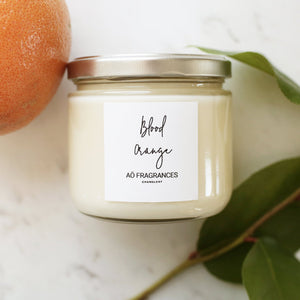 Blood Orange
Sale price Price $22.00 Regular price $0.00
Energize your senses with our Blood Orange candle, an effervescent burst of citrus that's like a splash of sunshine in your space. Imagine peeling a fresh blood orange on a sun-drenched patio, the air tingling with the zesty aroma of grapefruit, lemon, and mandarin. As you break through the orange peel, the scent intensifies, filling the atmosphere with a fragrant citrus melody that's both invigorating and comforting.

But this isn't just any orange scent. Beneath its bright exterior lie complex undertones of vetiver and cedar, adding a green, woody depth that elevates this candle from a simple citrus to a sophisticated, true-to-life experience. It's the citrus candle you've been waiting for, but with a twist that keeps you coming back for more.

To make this scent as authentic as that freshly peeled blood orange, we've infused the candle with a harmonious blend of essential oils, including sweet orange, mandarin, pine, and clove leaf. The result? An aromatic masterpiece that captures the very essence of blood orange in all its nuanced glory.

So, light up this Blood Orange candle and let its spirited aroma lift your mood and brighten your day. It's a little slice of citrus heaven, inviting you to pause, breathe, and savor life's simple joys.
Note Profile:
Top: Bergamot, Grapefruit
Middle: Orange, Green Leaves, Neroli
Base: Cedar
55 hour burn time
8.5 oz by weight (12 fl oz Jar)
Phthalate free
100% Pure Soy Wax
Hand Poured in Saint Augustine Florida