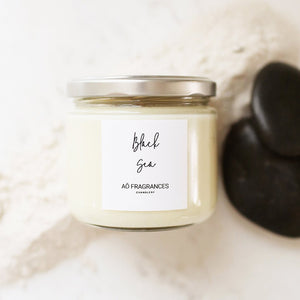 Black Sea
Sale price Price $22.00 Regular price $0.00
Embark on an olfactory journey with our Black Sea candle, a scent that captures the aura of an enigmatic body of water that has beguiled civilizations for centuries. Imagine the salty oceanic breeze blending seamlessly with deep undertones of dark musk and sandalwood. It's a perfectly balanced, airy fragrance that fills your space, evoking a sense of mysterious allure.

The Black Sea, a geographical marvel that connects modern-day Europe and Asia, was once considered the end of the known world. Its shadowy depths are rumored to conceal secrets, like the fabled lost city of Atlantis. This scent encapsulates such mysteries, inviting you to explore its complexities.

Infused with a sophisticated blend of natural essential oils—including sweet orange, mandarin, cinnamon bark, and more—this fragrance transcends the ordinary. It's a seductive aroma that not only enhances your space but also beckons you to ponder the untold stories that lie beneath the surface.

At Ao Fragrances, we craft each scent to be a narrative, a unique experience that transports you to different places and moments. Black Sea is no exception, offering an intriguing tale told through premium quality ingredients. It's a luxurious invitation to your senses, welcoming you to discover a world of aromatic excellence. Welcome to the Ao Fragrances family, where each scent narrates a captivating story.
Note Profile:
Top: Citrus, Sea Salt, Ozone
Middle: Plum, Cardamom
Base: Amber, Dark Musk
55 hour burn time
8.5 oz by weight (12 fl oz Jar)
Phthalate free
100% Pure Soy Wax
Hand Poured in Saint Augustine Florida