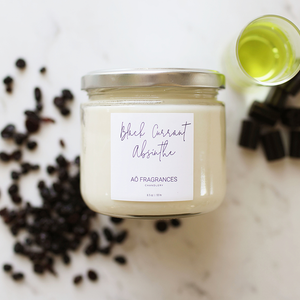 Black Currant Absinthe
Sale price Price $22.00 Regular price $0.00
Step into a world of opulence and mystery with our Black Currant Absinthe candle, a scent that weaves a mesmerizing tapestry of aromas. The moment you light the wick, you're greeted with a luxurious blend of saffron threads, sweet anise, and a whisper of eucalyptus that immediately piques your curiosity.

As the flame flickers, the heart of the fragrance takes center stage—luscious black currants and blackberries, complemented by a touch of earthy basil. It's a scent that draws you in, inviting you to explore its depths further. Finally, a rich base of dark musk, tonka bean, fennel, and amber adds an intense layer of complexity, transforming the scent into an experience to be savored.

Each flicker serves as a testament to our unwavering dedication to quality and meticulous attention to detail, reinforced by the infusion of a variety of natural essential oils, including sweet orange, patchouli, cedarwood, pine, juniper, and clove bud.

Whether you're pampering yourself after a long day or setting the atmosphere for an evening of elegance, this Black Currant Absinthe candle is the epitome of sophistication. It's a scent that's equally fitting for special events and gifting, adding a lavish touch to any space. Welcome to a world where each flicker tells a story, meticulously crafted for your olfactory pleasure.
Note Profile:
Top: Saffron, Apple Blossom
Middle: Black Currant, Blackberry, Vanilla Orchid
Base: Star Anise, Patchouli, Amber
55 hour burn time
8.5 oz by weight (12 fl oz Jar)
Phthalate free
100% Pure Soy Wax
Hand Poured in Saint Augustine Florida