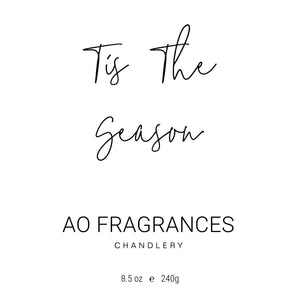 Tis The Season
Sale price Price $22.00 Regular price $0.00
Imagine the quintessence of the holiday season captured in a single, radiant moment—a night brimming with anticipation and nostalgia, the air filled with the warmth of love and the magic of tradition. That is what our Tis The Season candle offers. The moment you light it, a cascade of orange spice fills the room, harkening back to the mulled wine simmering on the stove and the orange pomanders hanging from the mantel.

As the flame dances, the scent unfolds into a heart of cypress and clove, capturing the essence of a freshly cut Christmas tree adorned with vintage ornaments and twinkling lights. It's as if you've just stepped into a forest clearing blanketed in snow, the towering firs standing like ancient sentinels of the season.

And as the evening stretches on, the fragrance settles into a comforting base of pine and fir, with whispers of smoky vetiver emulating the cozy embers in the fireplace. It's a scent that fills your home with an inviting warmth, making every corner feel like a cozy nook perfect for savoring the joys of the season.

Infused with an array of natural essential oils—including orange, cinnamon, clove, and pine—Tis The Season is more than just a fragrance; it's a holiday experience. Each note is a verse in a carol, each layer a page in a storybook. It's a seasonal symphony that plays in every room, inviting you to pause, breathe, and remember what the holiday season is truly about. Welcome to the essence of Christmas, any time of year.
Note Profile:
Top: Orange Peel, Cinnamon, Ginger
Middle: Cypress, Clove
Base: Pine, Fir

55 hour burn time
8.5 oz by weight (12 fl oz Jar)
Phthalate free
100% Pure Soy Wax
Hand Poured in Saint Augustine Florida