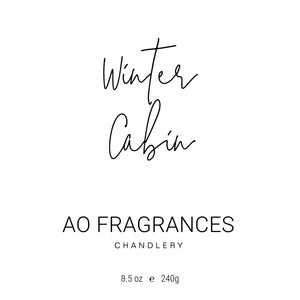 Winter Cabin
Sale price Price $22.00 Regular price
Embrace the cozy allure of a secluded retreat with our Winter Cabin candle. Imagine a rustic log cabin tucked away in a snowy forest, a sanctuary where time seems to stand still. As you light the wick, the room fills with the invigorating aroma of ozone, mint, and eucalyptus, capturing the essence of stepping outside into the crisp winter air.

Venture deeper into this aromatic sanctuary, and you'll encounter the heart of the fragrance: camphor, cypress, cedar, and sage. It's as if the walls of the cabin themselves are whispering stories of woodland adventures, their timbers rich with the scent of the forest.

Finally, subtle undertones of incense and spice waft through the air, adding a layer of complexity and warmth. It's the olfactory equivalent of wrapping yourself in a thick, woolen blanket next to a roaring fire.

Infused with a rich blend of essential oils—including eucalyptus, clove leaf, patchouli, cedarwood, and more—Winter Cabin is more than just a scent; it's an experience. It invites you into a world of natural beauty and serene solitude, making it the perfect backdrop for winter relaxation. Light the wick, and let the essence of a secluded, snow-covered cabin fill your space.
Note Profile:
Top: Mint, Ozone, Camphor
Middle: Eucalyptus, Peppermint, Cypress, Sage
Base: Patchouli, Juniper, Cedar, Spice, Incense
55 hour burn time
8.5 oz by weight (12 fl oz Jar)
Phthalate free
100% Pure Soy Wax
Hand Poured in Saint Augustine Florida