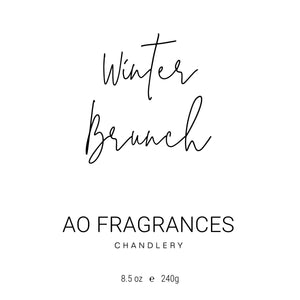 Winter Brunch
Sale price Price $22.00 Regular price $0.00
Unveil the spirit of the holidays with our Winter Brunch candle, a fragrant ode to the iconic Poinsettia cocktail. As the wick flickers to life, invigorating top notes of zesty citrus and tart cranberry ignite, mirroring the effervescent mixture of cranberry and citrus juices in this celebratory drink.

In the heart of this candle's aroma, the bubbly essence of champagne dances through the air. It's as if you can almost hear the pop and fizz, a joyous salute to holiday gatherings and festive brunches.

Just as a splash of triple sec adds a nuanced sweetness to the Poinsettia cocktail, our candle reveals base notes of sumptuous praline and comforting musk. These grounding elements envelop you in a warm embrace, transforming your space into a cozy haven where laughter and love flow as freely as the champagne.

Infused with a blend of natural essential oils, including orange sweet, lemon, and davana, this candle is your invitation to a jubilant holiday celebration—no RSVP required. Light up Winter Brunch, and let the festivities begin!
Note Profile:
Top: Citrus, Cranberry
Middle: Champagne
Base: Musk, Praline
55 hour burn time
8.5 oz by weight (12 fl oz Jar)
Phthalate free
100% Pure Soy Wax
Hand Poured in Saint Augustine Florida