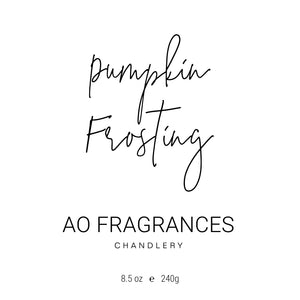 Pumpkin Frosting
Sale price Price $22.00 Regular price
Embrace the warm hug of autumn any time you wish with our Pumpkin Frosting candle, a scent that embodies the cozy essence of pumpkin spice season. Picture yourself wrapped in your favorite cardigan, sipping on a pumpkin spice latte as leaves in shades of gold and crimson dance in the wind outside your window.
The moment you light this candle, your space becomes a haven of fall comfort. Top notes of luscious pumpkin and warm brown sugar waft through the air, as if a freshly baked pumpkin pie is cooling on the windowsill. But wait, the scent story has more to share. A dash of autumnal cinnamon and clove come swirling in, adding a spicy warmth to this olfactory tapestry.
Just when you thought it couldn't get any cozier, the base notes of butter, cream, vanilla, and nutmeg join the mix. It's as if you've just slathered a generous layer of pumpkin spice buttercream frosting on that pie, turning each flicker of the flame into a bite of pure indulgence.
Infused with a blend of natural essential oils—including clove leaf, juniper, and patchouli—our Pumpkin Frosting candle reflects our meticulous attention to quality and detail. It's more than just a scent; it's an invitation to wrap yourself in the comforting arms of fall, one flicker at a time.
So go ahead, light up this candle and let its warm, inviting aroma fill your space. Welcome to a world where each flicker pens a chapter in your own personal fall fantasy, meticulously crafted for your sensory pleasure.
Note Profile:

Top: Pumpkin, Brown Sugar
Middle: Cinnamon, Clove
Base: Butter, Cream, Vanilla, Nutmeg
55 hour burn time
8.5 oz by weight (12 fl oz Jar)
Phthalate free
100% Pure Soy Wax
Hand Poured in Northeast Florida