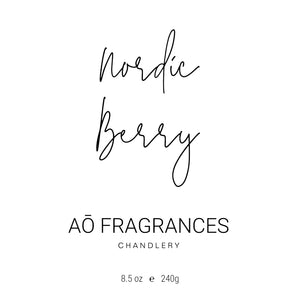 Nordic Berry
Sale price Price $22.00 Regular price $0.00
Embark on a festive journey to the icy fjords of Scandinavia with our Nordic Berry candle. This isn't your typical holiday berry scent—it's a voyage into the heart of winter, where the air is crisp and the landscape is a frozen wonderland.

As you light the wick, you're greeted by the invigorating top notes of apple, frozen berry, and a touch of lemon. It's like biting into a freshly picked apple while surrounded by snow-covered berry bushes, all kissed by the winter sun.

The adventure continues as the scent warms, revealing a forest heart of balsam fir, cinnamon, and clove. Imagine the scent of a majestic fir tree, its branches dusted with snow, standing tall amidst the spicy aromas of holiday spices wafting in the air.

The journey concludes with an embrace of rustic cedarwood, fresh mountain air, and a whisper of musk. These base notes provide a grounding experience, as if you've found a cozy mountain cabin to rest, enveloped by the natural world at its wintry best.

Infused with an artful blend of fruit and spice, Nordic Berry is the perfect companion for your winter explorations—whether they be through snowy landscapes or simply curled up by the fire, dreaming of far-off places.
Note Profile:
Top: Apple, Frozen Berry, Lemon
Middle: Balsam Fir, Cinnamon, Clove
Base: Cedarwood, Mountain Air, Musk
55 hour burn time
8.5 oz by weight (12 fl oz Jar)
Phthalate free
100% Pure Soy Wax
Hand Poured in Saint Augustine Florida