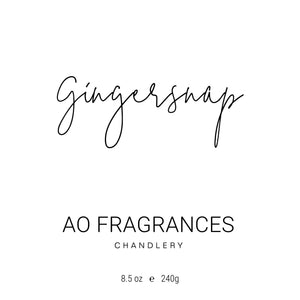 Gingersnap
Sale price Price $22.00 Regular price $0.00
Step into a cozy kitchen filled with the rich, comforting aroma of freshly baked gingersnap cookies. Our Gingersnap candle transports you to a nostalgic moment, where the air is thick with the delightful blend of peppery ginger and luscious brown sugar. It's like a hug for your senses.

As the candle flickers, its heart reveals a sumptuous blend of butter, molasses, and vanilla—a testament to the artisanal care that goes into each batch of cookies, and indeed, into each of our candles. It's a scent so authentic, you'll almost taste the cookies cooling on the rack.

But there's more to discover. Layers of cinnamon and clove dance in the air, mingling with a splash of creamy milk. It's a complex aroma that captures the essence of a homemade treat, elevating it into an olfactory experience that comforts and warms.

Infused with a blend of natural essential oils like clove leaf, rosemary, nutmeg, and more, our Gingersnap candle invites you to relax and savor life's simple pleasures. Whether you light it during the holiday season or on a quiet evening, it's a sweet invitation to unwind and indulge in a moment of coziness.
Note Profile:
Top: Ginger, Brown Sugar
Middle: Butter, Molasses, Vanilla
Base: Cinnamon, Clove, Milk
55 hour burn time
8.5 oz by weight (12 fl oz Jar)
Phthalate free
100% Pure Soy Wax
Hand Poured in Saint Augustine Florida