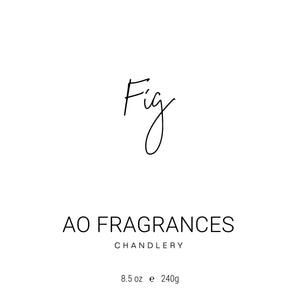 Fig
Sale price Price $22.00 Regular price $0.00
Step into an enchanted garden, where nature's elegance and sophistication come alive in every flicker of our Fig candle. This is not just a scent; it's a multidimensional journey through a landscape rich in texture and nuance. Imagine standing beneath a majestic fig tree, its branches laden with sun-ripened fruit, as floral whispers of freesia and ozone greet you like a gentle morning breeze.

As the flame dances, the plot thickens. Light jasmine, cherry blossom, and geranium unfold like blooming petals, inviting you further into this olfactory paradise. But that's not all. The underlying notes of green leaves, bamboo, and moss bring a lush, verdant quality to the scent, reminiscent of a stroll through a secluded forest glade.

The finale? A delicate balance of patchouli and saffron, intricately woven into the blend, adding a layer of earthy sophistication. Each element in this complex narrative is carefully selected and infused with natural essential oils, including citrusy grapefruit, lemon, and orange, as well as grounding patchouli, reflecting our unwavering dedication to quality and detail.

Light up this Fig candle and let your senses roam free in this aromatic Eden. Here, every flicker tells a tale of woody majesty and floral grace, crafted to perfection for your sensory delight. Welcome to a world of olfactory storytelling, where each scent is a chapter in a book you never want to end.
Note Profile:
Top: Ozone, Freesia
Middle: Jasmine, Geranium, Fig, Cherry Blossom, Green Leaves
Base: Bamboo, Moss, Powder, Saffron, Patchouli, Wood
55 hour burn time
8.5 oz by weight (12 fl oz Jar)
Phthalate free
100% Pure Soy Wax
Hand Poured in North East Florida