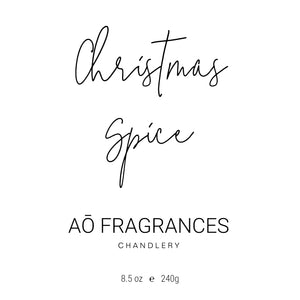 Christmas Spice
Sale price Price $22.00 Regular price
Unwrap the magic of the holidays with our Christmas Spice candle, a fragrance that encapsulates the essence of cherished moments and heartwarming traditions. Imagine walking into a room filled with the inviting aroma of cinnamon sugar, harmoniously mingling with a hint of thyme. Let your senses explore further as you're greeted by the warmth of nutmeg and the unique sweetness of candied ginger.
But wait, there's more—take a moment to savor the cozy base notes of rich mocha and a twist of vibrant orange. It's as if your favorite holiday treats and spices have come together to create an unforgettable ambiance, filling your home with love, joy, and the spirit of the season.
Enhanced with intricate layers of aroma, from the comforting top notes to the grounding base, Christmas Spice is more than just a candle—it's a celebration of all the flavors and fragrances that make this time of year so special. Each time you light it, you're not just filling your space with an aroma; you're filling it with years of cherished memories and new moments waiting to be made.
Perfect for welcoming guests or simply savoring some alone time wrapped in a blanket, this luxurious scent is your invitation to a holiday season filled with love, comfort, and the simplest yet most meaningful pleasures. Welcome to a world of aromatic storytelling, where each scent captures the essence of a beautiful moment.
Note Profile:
Top: Cinnamon Sugar, Thyme
Middle: Nutmeg, Candied Ginger
Base: Mocha, Orange
55 hour burn time
8.5 oz by weight (12 fl oz Jar)
Phthalate free
100% Pure Soy Wax
Hand Poured in Saint Augustine Florida