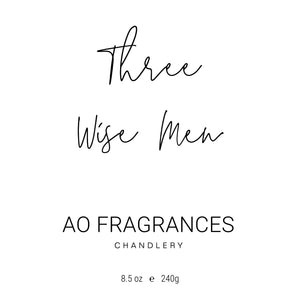 Three Wise Men
Sale price Price $22.00 Regular price $0.00
Embark on a timeless journey with our Three Wise Men candle, a scent as ancient as it is luxurious. As the flame dances, a captivating blend of citrusy bergamot and amber fills the air, serving as the heralds for the gifts of the Magi to come. It's like opening a treasure chest of sacred offerings, inviting you to delve deeper into a mystical experience.

As the heart of the fragrance unveils itself, you are embraced by the sacred scents of myrrh and frankincense, renowned for their use in spiritual rituals and healing practices for thousands of years. These resinous notes are as intricate as they are eternal, grounding the soul in contemplative tranquility.

As the scent rests, a sumptuous base of powder and oud softens the wood and incense notes, akin to a reverent whisper in an ancient temple. It's a fragrance that wraps you in its ethereal layers, like a shroud of serenity and wisdom.

Infused with a meticulously chosen blend of natural essential oils—coriander seed, cumin, lemon, orange, patchouli, and olibanum—Three Wise Men is not just a fragrance but an olfactory tale of a journey across deserts, through time, to the very heart of reverence and holiness. Light it, breathe it in, and let your space become a sanctuary of age-old wisdom and peace.
Note Profile:

Base: Frankincense/Olibanum, Myrrh, Oud, Powder
55 hour burn time
8.5 oz by weight (12 fl oz Jar)
Phthalate free
100% Pure Soy Wax
Hand Poured in Saint Augustine Florida