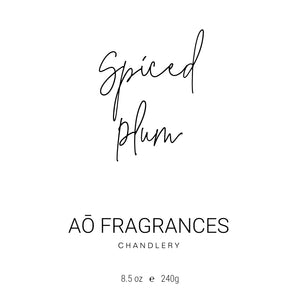 Spiced Plum
Sale price Price $22.00 Regular price $0.00
Step into a winter wonderland with our Spiced Plum candle—a fragrance that beautifully marries the festive with the sophisticated. Imagine walking through a forest of fir and cypress, their needles frosted by the chill. The air is crisp, and your breath forms tiny clouds as you move.

As you walk, you stumble upon a hidden grove where dark plums have fallen into the snow, their deep purple hues contrasting against the pristine white. The scent is intoxicating—a blend of plum nectar elevated by spicy undertones of saffron and cinnamon. It's as if the forest itself has prepared a holiday feast for the senses.

But the journey doesn't end here. As the candle burns, a complex base of wood and incense unfurls, evoking the cozy warmth of a fireside evening, complete with smoky incense to mystify the senses. A touch of benzoin adds a layer of richness, reminiscent of vanilla, but more exotic.

Infused with natural essential oils, including orange and clove, this fragrance isn't just a scent; it's an experience. It's a walk through a forest, a sip of spiced wine, and the embrace of a warm blanket, all wrapped up in one. With Spiced Plum, every day is a holiday, and each moment is a celebration.

Note Profile:
Top: Fir, Cypress
Middle: Plum, Saffron, Spice, Cinnamon
Base: Wood, Incense, Benzoin

55 hour burn time
8.5 oz by weight (12 fl oz Jar)
Phthalate free
100% Pure Soy Wax
Hand Poured in Saint Augustine Florida